Bottle Feeding System for professionals
Standard Bottle Feeding System
Dr. Brown's® Medical is committed to assisting medical practice professionals to facilitate safe, successful and positive oral experiences for hospitalized infants from admission through their discharge to home. Over 1 million infants and families in the US experience some type of oral feeding challenge related to oral feeding maturity and complex medical conditions that disrupt feeding skill development.
Medical outcomes are improved and the transition home improved when an infant gets proper nutrition. With this in mind, Dr. Brown's Natural Flow® baby bottles address the symptoms of colic and digestive disorders, preserves vitamins A, C and E, as well as provides an ease of delivery for the most fragile infant population.
Clear benefits for oral feeding challenges related to immaturity with the Dr. Brown's® "Vacuum-less" bottle system.
Fully-vented bottle design is closest to breastfeeding
Proven to help preserve bottle milk nutrients that are critical for health in infancy
Available in 60 ml and 120 ml with Level 1 silicone nipple
An added benefit is the combination of the internal vent system and silicone nipples, designed to work together for a vacuum-less, controlled flow allowing infants to "Reduce the infants' energy expenditure by enhancing feeding performance without increasing sucking effort." (Fucile, et al 2009)
Artikelnr SB2101-BULK-X (60 ml)
Besteleenheid 10 stuks (bulkverpakking)
Artikelnr SB41005-BULK-X (120 ml)
Besteleenheid 10 stuks (bulkverpakking)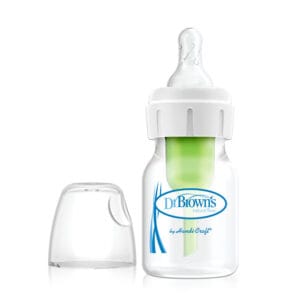 Accu-Feed Bulk Pack (Preemie)
60 ml BPA-free bottle vessel, Preemie Flow® nipple and travel cap
Artikelnr. SB260-med | Besteleenheid 24 stuks (bulk)
60 ml Accu-Feed Bottle System (Ultra-Preemie/Preemie)
The design of this patented feeding system incorporates the benefits of a vacuum-free, controlled-flow bottle system featuring the highly recognized, reliable and consistent Dr. Brown's® nipples. The new bottle system has easily identifiable graduated markings from 5 cc to 60 cc providing the most accurate fluid volumes. Each Dr. Brown's® Accu-Feed Bottle System allows a well-organized milk transfer during each feeding, providing successful, positive, safe and efficient feeding experiences.
The Dr. Brown's® Accu-Feed includes a 60 ml BPA-free plastic bottle vessel, internal vent system, and either an Ultra Preemie™ or Preemie Flow® nipple. The colored collar and cap allows for quick identification of the nipple level.
The Dr. Brown's® Accu-Feed is fully assembled in bulk cases of 24 feeding systems with either an Ultra-Preemie™ (purple collar/cap) or Preemie Flow® (pink collar/cap) nipple.
• 24 travel caps/case included for use when warming liquid in bottle warmers.
• Any of the Dr. Brown's® seven (6) supple silicone nipple levels (Ultra-Preemie,™ Preemie Flow,® Level 1 – 4) can be used with the 60 ml Accu-Feed Bottle System. Dr. Brown's® nipples are all Quality Controlled to assure the flow rates for each nipple are consistent and dependable.
• The universal threading on each Accu-Feed is designed to fit all electric breast pump systems. By pumping directly into the bottle vessel, the need to transfer fluid into a secondary feeding vessel is eliminated, reducing the risk of valuable fluid loss.
• The full bottle system is dishwasher, microwave steam bag, and steam sterilization (autoclave) safe.
• This system is designed to be reusable or disposable.